LESS RULES. MORE PERFORMANCE.
LESS RULES. MORE PERFORMANCE.
The first ever BMW 2 Series Coupé.
| | |
| --- | --- |
| | |
| Rated Power in kW /Rated Engine Speed in rpm | |
| Combined consumption in l/100 km | |
| Acceleration 0-100 km/h in s | |
| *Figures for automatic gearbox displayed in brackets, when different from manual. | |
DOESN'T NEED A DRIVER. SEEKING AN ACCOMPLICE.TEST
The BMW 2 Series Coupé M235i.
This vehicle gets started where others stop. The turbocharged inline 6-cylinder petrol engine with 240 kW lends it record-worthy sprint qualities with maximum efficiency. The M Aerodynamics package, the rear spoiler lip and the M chassis result in an extremely athletic look, more contact pressure and optimal driving behaviour in every situation. The interior of the BMW M235i, with its Sport seats for the driver and front passenger, M leather steering wheel with multifunction and many more options, takes on the atmosphere of a world that revolves around racing. It offers high performance like it should be experienced, breathtakingly.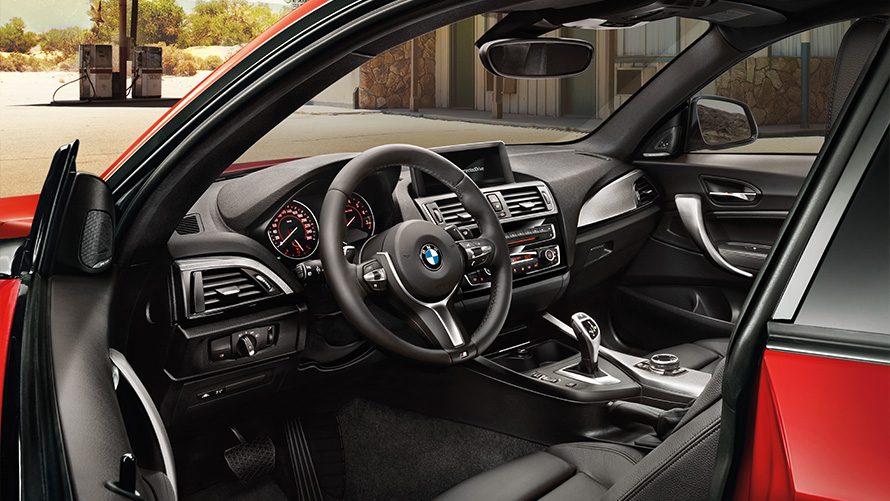 Interior.
The BMW 2 Series Coupé offers conformity for the nonconformist. When you take a seat behind the wheel, you enter the limelight. This is because the entire cockpit is orientated towards the driver. The asymmetrical centre console is tilted towards you, the free-standing Control Display is optimally in your line of sight and all important functions are always under your control. The coupé-like frameless windows don't interfere with the view. Exciting, overlapping surfaces and dynamic lines carry the sporty exterior through to the interior. And naturally, all this is achieved with perfect workmanship and through the use of high-quality materials.
Driving Dynamics.
When you're living life to the fullest, you're not interested in compromises and neither is the BMW 2 Series Coupé. Its roadholding 50:50 weight distribution and the sporty performance of its rear drive are unique in its class. Dynamic, vivacious and focused on a single goal, it offers ultimate driving pleasure.
240 kW.
The BMW M235i doesn't just thrill with its overwhelming power, it also boasts impressive agility and suitability for everyday use. The 3.0-litre M Performance TwinPower Turbo inline 6-cylinder petrol engine combines Valvetronic including Double-VANOS and High Precision Injection with a TwinScroll turbocharger. Outstanding responsiveness, high torque even at low revs and a wide rev range are trademarks of this powerful engine. The result is maximum torque from 450 Nm with average consumption of 8.1 l/100 km [Automatic: 7.6 l]. The M Performance TwinPower Turbo inline 6-cylinder petrol engine accelerates from 0 to 100 km/h in just 5.0 seconds [Automatic: 4.8 seconds].

THE BMW 2 SERIES COUPE AT A GLANCE.